February 12, 2019

by Treasure Hill Homes
As an award-winning homebuilder, Treasure Hill understands that every home buyer has different needs, and that is why we offer many home designs from townhomes to impressive estate homes. One way to fulfill a homeowner's day-to-day needs is with one of our favourite designs - the bungalow! A bungalow is great for first time buyers who would like a single-detached home, for new families or anyone looking to downsize.
There are many benefits to owning a bungalow that you may not have thought of. Here are just a few:
New bungalows are a great fit for families with young children, as you don't have to worry about child-proofing as many areas, especially stairs. There are less opportunities from tumbling down stairs or not being able to see your children who are playing on a different level.

Treasure Hill bungalows also have 2 bedrooms - the second can be used as a nursery or child's bedroom. Bunk beds are a great space saver, accommodating 2 children! Not to mention the basement extends as an additional play space opportunity.
2. Accommodate Mobility Limitations
A bungalow offers easy and comfortable access throughout the entire home which makes it a viable living option for any individual with mobility limitations.
3. High Demand for Resale
Due to all of the great perks of owning a bungalow, they are hard to come across the demand for bungalows is very high, especially for the aging population. If you ever choose to sell in the future, the likelihood of selling increases with a bungalow.

Treasure Hill is offering bungalows at two new communities across the GTA - Kingsview Ridge in Oshawa and Georgina Heights in Keswick. The bungalow designs at both of these communities have all the features you would be looking for including no stairs, open-living concept, and a ground floor master bedroom. Not to mention, the basement space is larger than a 2-storey home and open to creating a multi-purpose living area. Our bungalow homes even include 2-car garage.
Kingsview Ridge
At Kingsview Ridge, a new bungalow design was just released! The Langley 5 is 1,354 sq.ft. on a 36' lot and features 2-bedrooms plus 2-car garage, starting at only $599,900*. Bungalows are also offered on 40' lots. The community is situated at Shankel Road and Townline Road, which is only minutes from many great schools, parks, shops and more. For more information, you can visit our sales centre located at 1414 King Street East Units #29 & #30 in the Townline Centre.
Georgina Heights
Keswick's hottest selling community, Georgina Heights, has launched their Phase 3 release! This new release includes a variety of bungalow designs, starting from $599,900*. Included in this new release of lots will be lots with peaceful pond views - featuring the same stunning plans but with equally stunning views! Georgina Heights also has a bungaloft home option for when you need a bit more extra room but not the entire second level.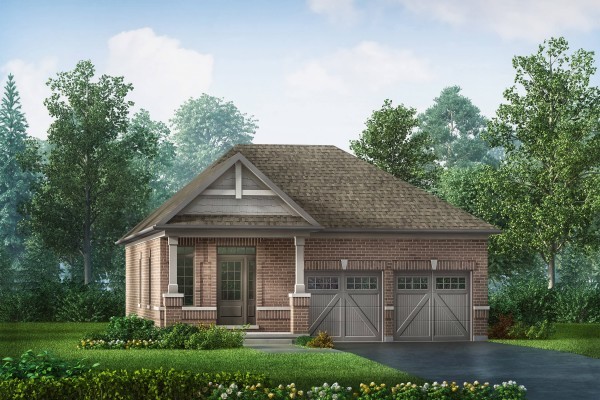 Every Treasure Hill bungalow is a Genius bungalow. Treasure Hill is truly raising the bar when it comes to standard features. Every Genius home will include the latest in technological connectivity, luxury finishes and environmental features. This includes the Amazon Echo Show, Caesarstone quartz countertops in the kitchen and all bathrooms, Nest energy-saving thermostat and so many other amazing details.
Adena Views
If you are interested in an estate bungalow, look no further than Adena Views in Aurora. This new community opening on February 23rd, is offering bungalow options located at Leslie Street and Wellington Street. Adena Views backs onto Magna Golf Club, creating an unparalleled living experience. Here, you are moments away from schools, shopping, dining and more.
For information regarding all upcoming communities, and to stay in the loop about new bungalows, visit treasurehill.com
*Price and information correct at press time. See a sales representative for details. Illustration is artist's concept. E. & O. E.